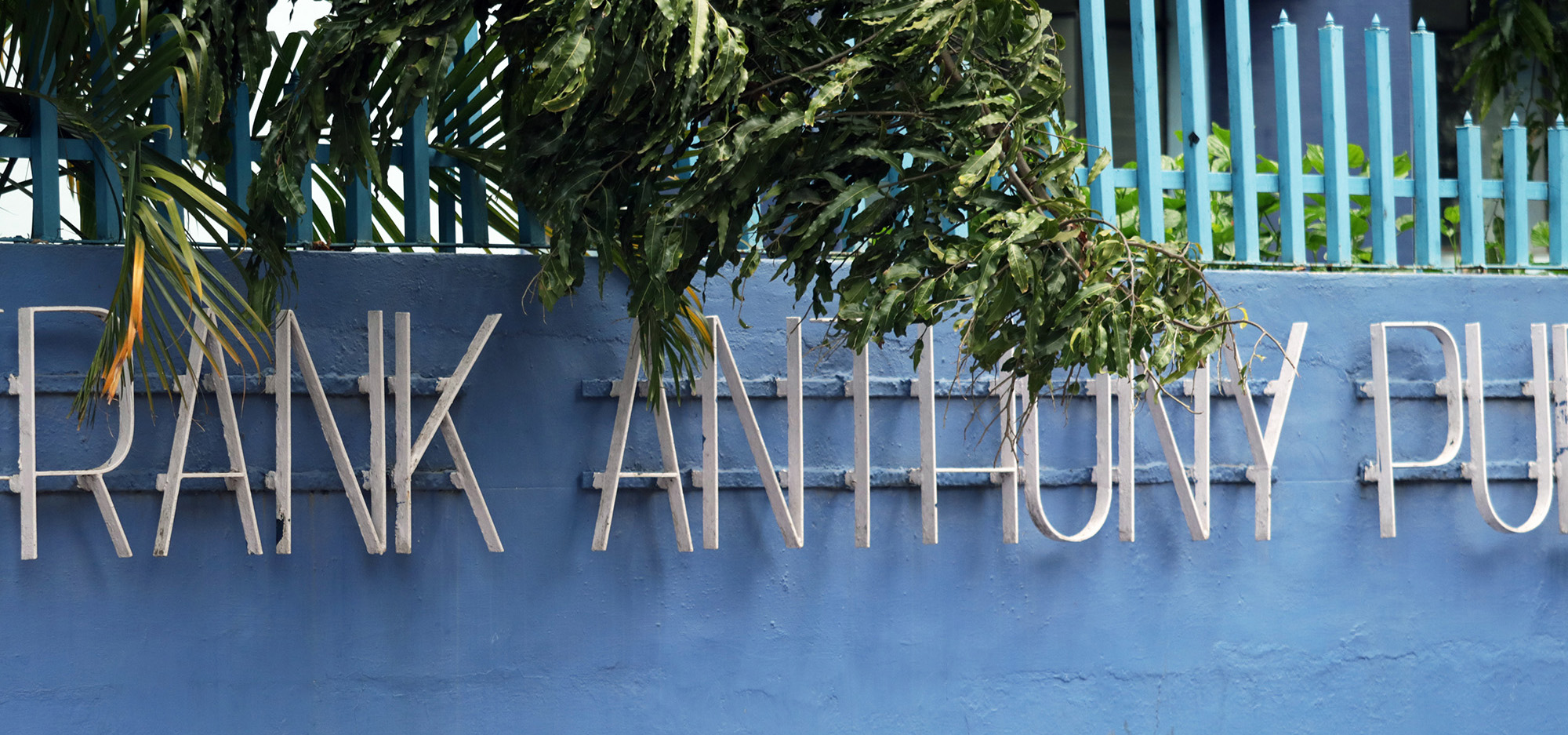 Type Tour of Indiranagar
This is an abridged form of an that essay first appeared as Issue 7 / A Type Tour of Indiranagar of my newsletter I Spy with my Typographic Eye. Read the original, which includes a look at Kannada newspaper nameplates, and subscribe to the newsletter.
Last autumn, I found myself in Bangalore and as I spent a few days in Indiranagar, a neighbourhood I called home just a few years ago, I wondered when I lost the sense of wonder about it that I had when I first moved there in 2014. If you're familiar with the locality, the reasons may seem obvious — infrastructure is crumbling, traffic is a nightmare, commercial enterprises have all but encroached on the peace of the residents, and walking the streets feels like putting oneself through mortal danger. But still.
Rediscovering the typographic character of Indiranagar
With a little self-reflection galvanised by my chats with friends, and a rummage through my own notes and photographs from years past, I did what I suppose I do best: see Indiranagar afresh with a typographic eye. I had an arsenal of material collected over almost a decade (2014–22), and it helped me move toward an alternate, more curious perspective. I realise that Indiranagar may feel like an odd choice of location for a type tour. There are historic neighbourhoods in Bangalore, like Chickpete, or older, storied commercial hubs, like MG Road (where, incidentally, I did run a type walk in 2019), or areas with much more distinctive personalities, say Fraser Town. Why noisy and gentrified Indiranagar? I suppose you'll just have to read to find out.
In the residential lanes
Having spent a lifetime in apartments of different shapes and sizes, I find the rows of bungalows in Indiranagar, especially Defence Colony, a dramatic change of pace. There are giant houses everywhere, each with their own personality, and a house number designed to match. I first began documenting them in 2016, and keep adding to my collection every time I visit.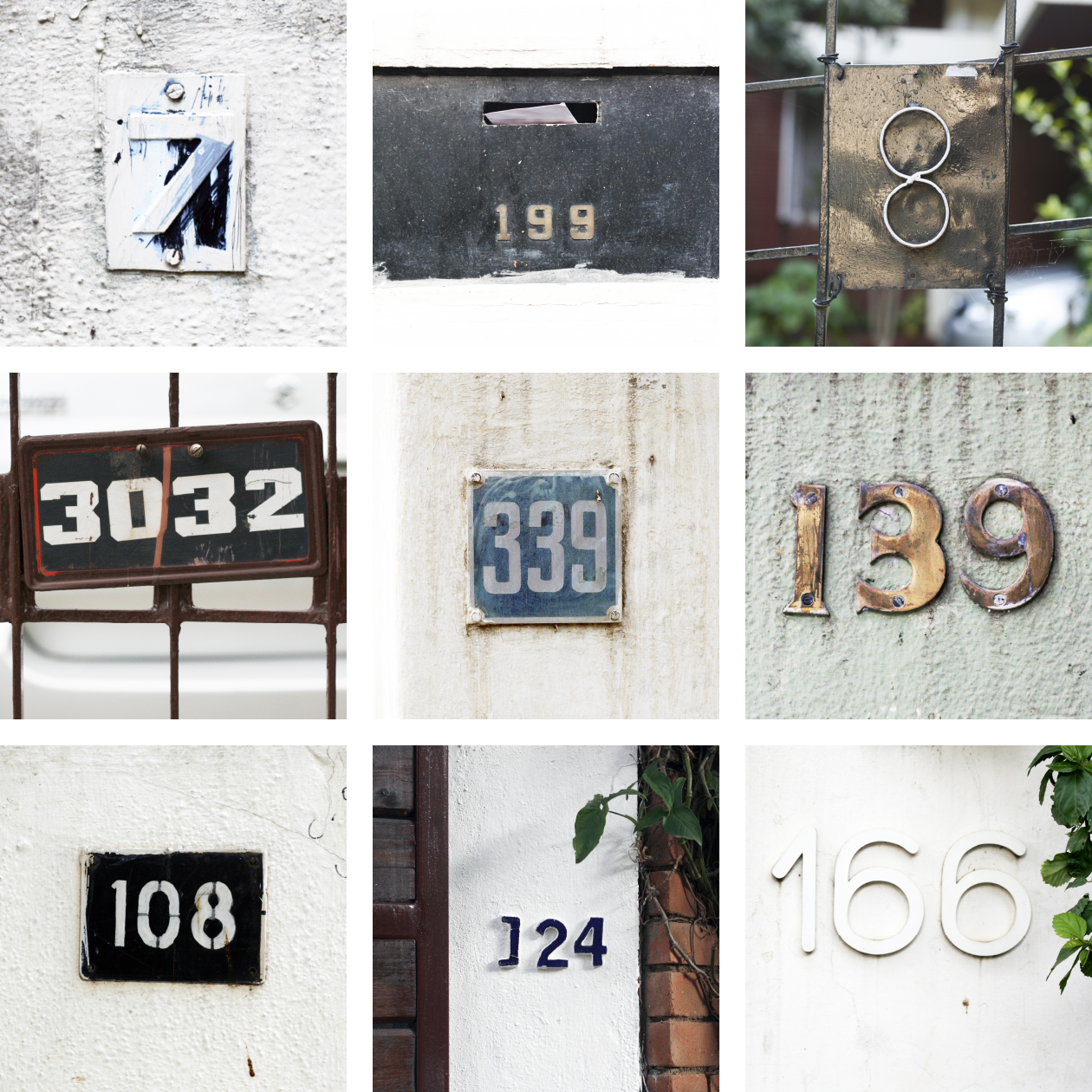 Many of these are hand-painted, others made of plaster, there are metal ones and some are engraved. And while a few depend on typefaces, the majority are lettered. Of course these numbers have functional use — how else would you find the house — but I enjoy seeing them as small expressions of personal taste.
But bungalows are not the only homes with thoughtful lettering on them. Southwards towards Domlur Flyover, there is a small apartment building called Samruddhi Nilaya (location), which has an eye-catching bilingual sign made with pieces of tile along with a mural of the same material.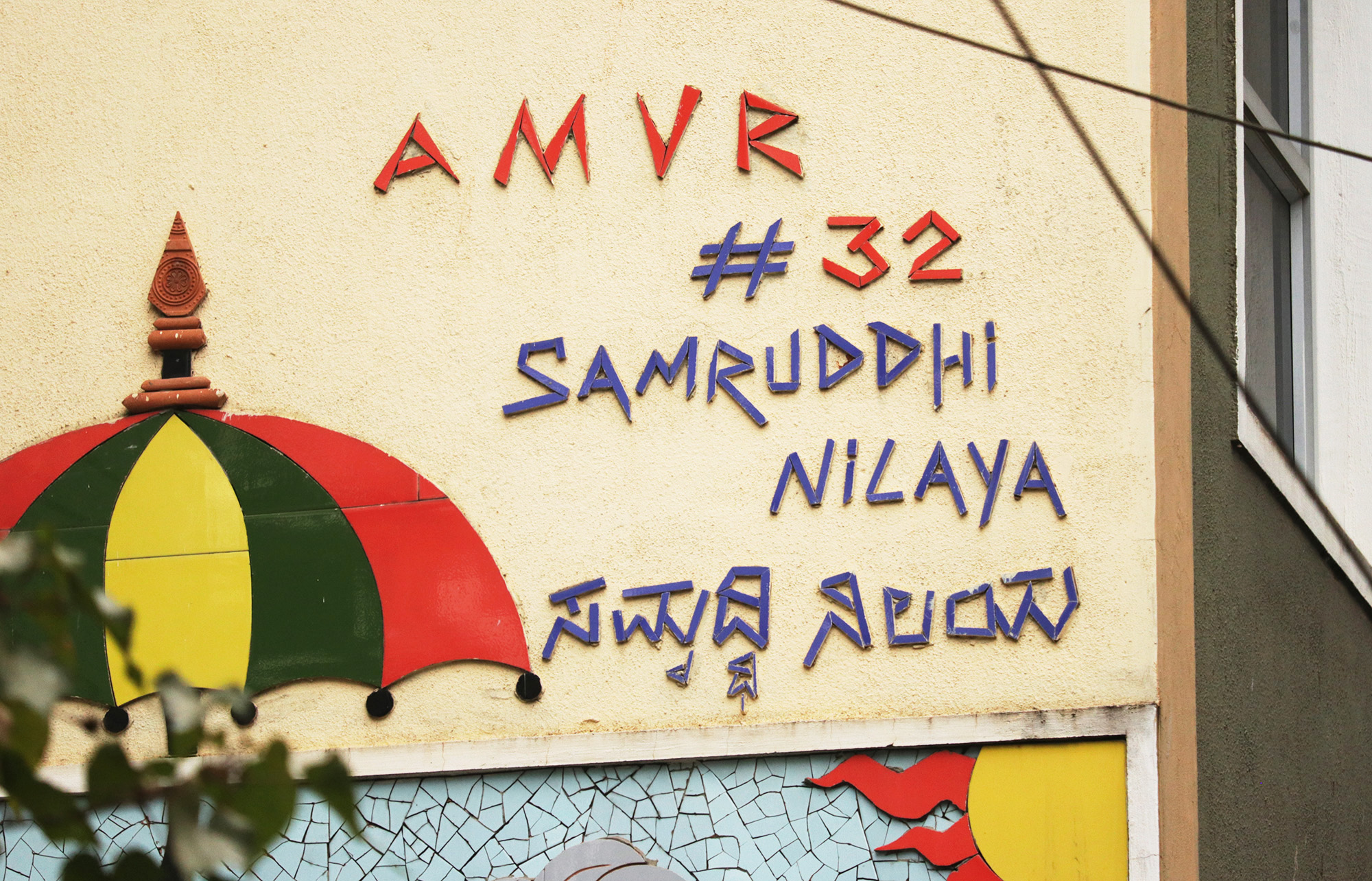 Homes aside, the many parks of Defence Colony all have hand-painted signs to enumerate the long lists of rules that must be followed inside.
The sign board at the Senior Citizens' Park (location) uses a brush-lettered Latin that I associate very strongly with Bangalore. So much so that if I were to ever to imagine a Latin typeface that can be identified with the city, it wouldn't veer too far from this style. You'll notice how it is inspired from the Kannada lettering in the top line.
The Latin letters are boxy and bold with narrow, consistent horizontal proportions and high-contrast, but what makes them special are the commanding in- and out-strokes, and arched yet taut vertical strokes. The textural effect they create is not unlike blackletter, but the rhythm is pleasantly organic. A hand-painted advertisement that I photographed back in 2016 shows a nice sample of uppercase and numerals in the same style.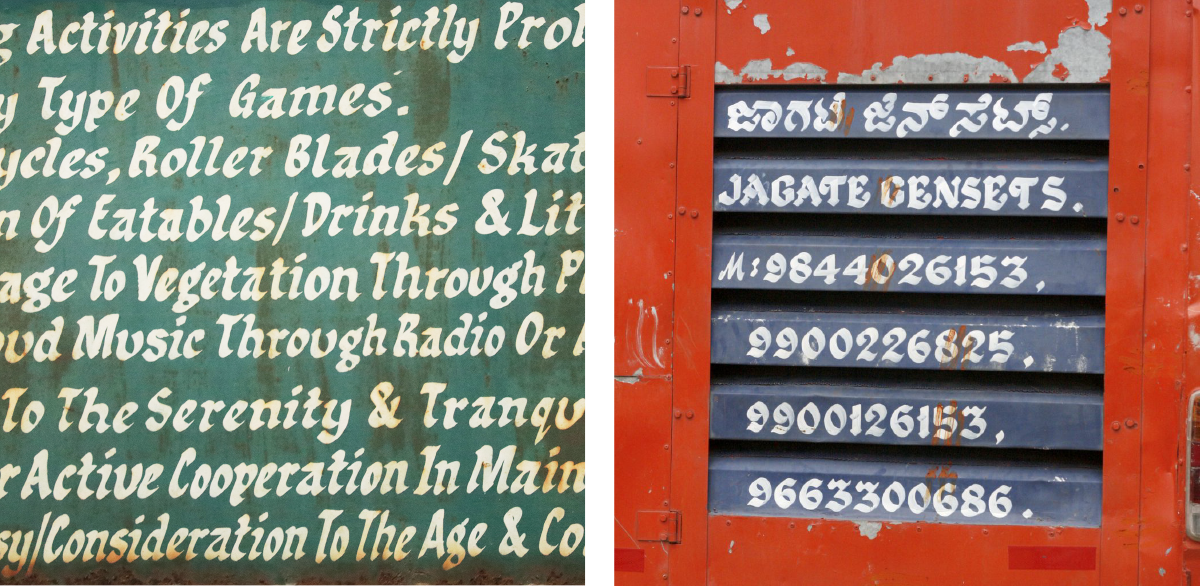 Bilingual branding
It wouldn't be Bangalore, if one didn't examine how brands, especially those that would be expected to employ professional designers, were presenting themselves in a bilingual setting. In the commercial centre of Indiranagar, you can see two approaches: there are brands that attempt to visually match Kannada and Latin, and others that don't bother with much at all. Of the former kind, I have a fondness for the sign for Sakhi Enterprises (location), a women's boutique that is tucked away in a quieter lane.
I always wonder if any of these brands ever attempt a Kannada-first way of thinking (none come to my mind), or better still shape their identity in each script independently, not caring about a unified visual language but about a unified message and tone.
Hand-painted shop signs
Step away from the gentrified heart of Indiranagar, and you can find pockets of striking hand-painted signs. My go-to spot is Sri Krishna Temple Road (location), in particular the small cluster of shops next to where it intersects with 100 Feet Road. The signs are often hidden behind trees, under roofing sheets, or worse in the middle of a flood of digitally produced ones. But there are some real gems to be found there, like the sign for Breeze Cleaners. It is absolutely outstanding! Another brilliant example is at Indiranagar Chicken Centre, whose sign features casual, shaded capitals.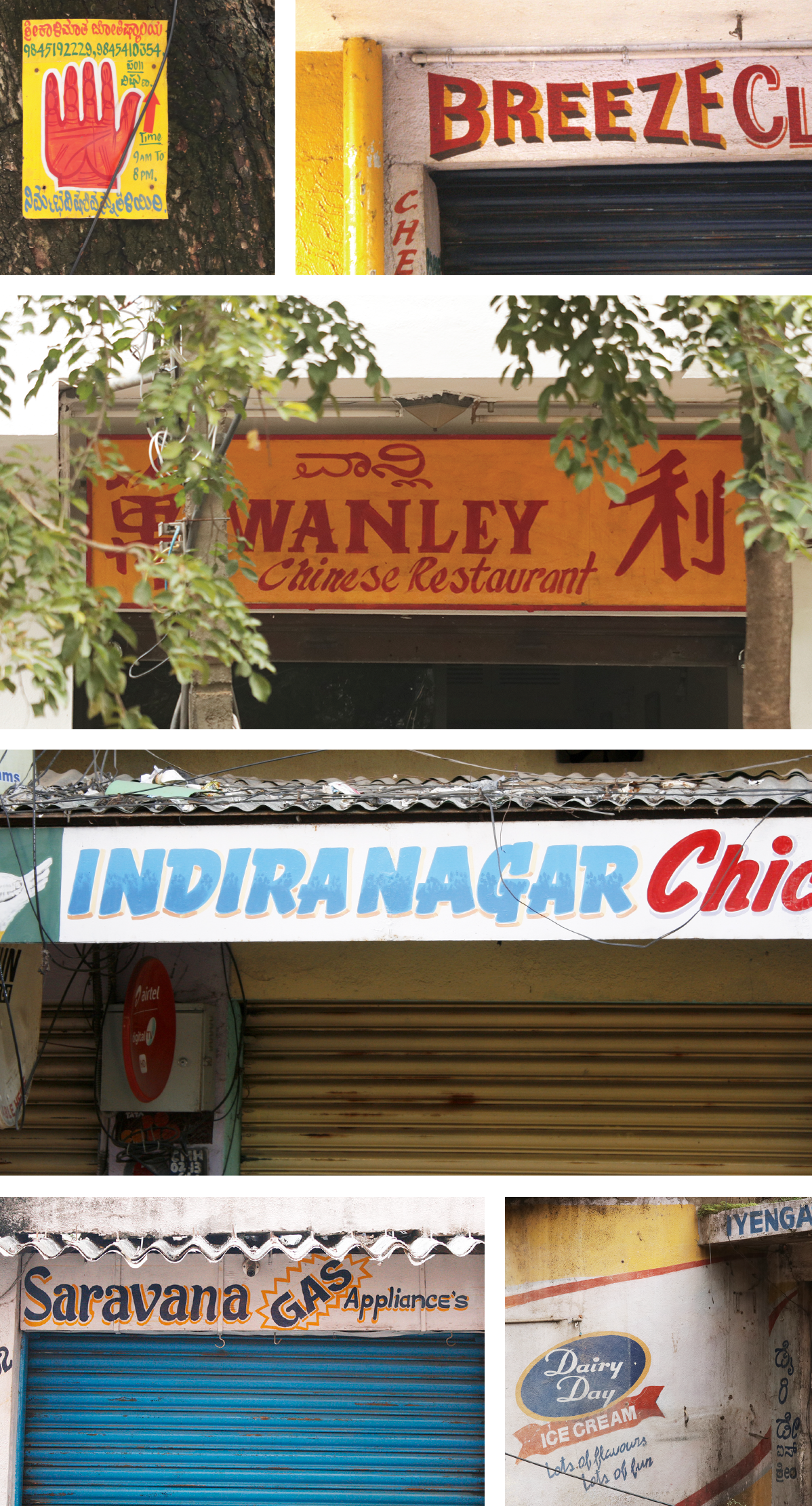 ESI Hospital
Across the road, ESI Hospital (location) offers a different lesson. In the sign painted over the hospital entrance, none of the three scripts — Kannada, Devanagari and Latin — are presented in very polished letters, but the design of the Devanagari is particularly egregious. I love spotting Devanagari monstrosities like this in Bangalore, no doubt results of Hindi imposition in a state where it is barely spoken by the local population.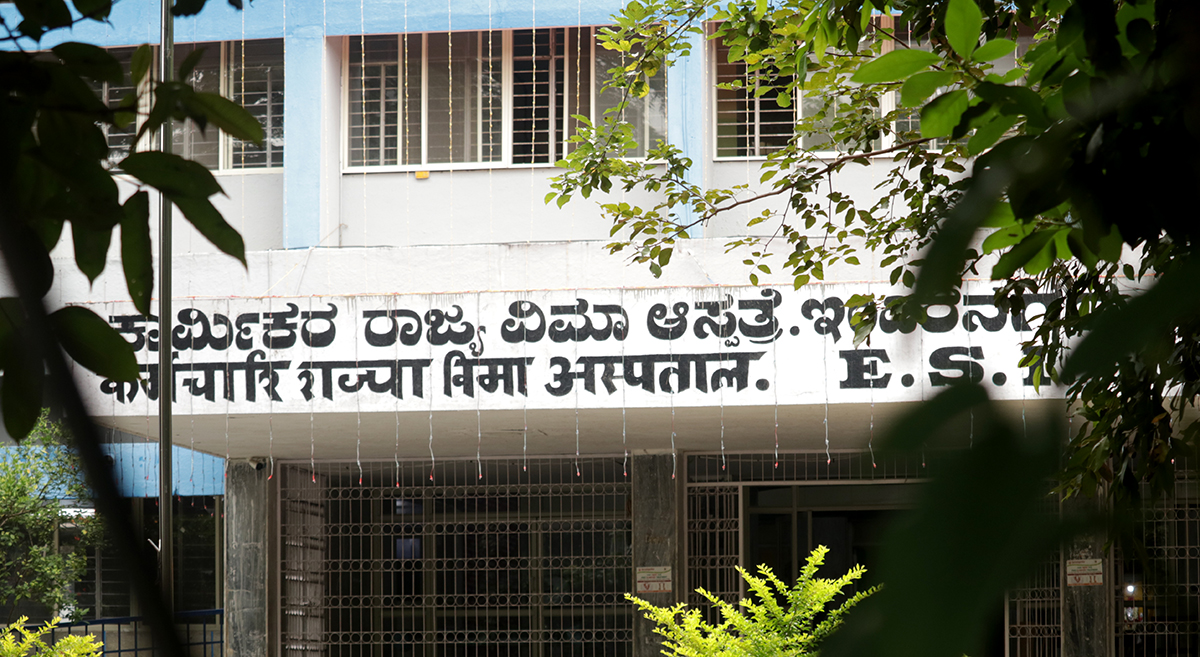 In just this small Devanagari sample, there is so much to unpack. The first three words are misspelt. The ि appears in place of the ी in two instances, and व for ब: all confusions that are quite understandable. The construction of the letter र is a bit contentious. Rather than start from the headline, it is detached. And the upper counter is closing in on itself in a manner that is not certainly not common. In the word अस्पताल, the vertical stem is being sliced off at alternating angles, which creates an unexpected pattern. The most glaring error is in the shape of the letter य in राज्या, rendering it almost illegible.
The great thing about noticing the details in a sign like this instead of dismissing it outright is that it opens up the opportunity to test the limits of letterforms. It lets one observe how much features can be modified or distorted before a letter becomes completely unrecognisable.
The Frank Anthony Public School
This is me cheating since The Frank Anthony Public School (location) is in Cambridge Layout, which falls clearly in Ulsoor, but this has got to be one of my favourite signs in all of Bangalore, and I wasn't going to lose a chance to share it with you. After all, it really is on the border of Indiranagar.
The school was established in 1967, and is one of three founded by Frank Anthony, who was a member of the Constituent Assembly where he represented the Anglo-Indian community, and their nominated representative in the Lok Sabha for over thirty years. Anthony was also the founder of the Council for the Indian School Certificate Examinations, which conducts ICSE school examinations.
This sign for the school is wrought in metal and mounted on the boundary wall of the campus. It can be quite difficult to stand and admire it because it faces a very narrow and busy street. Honestly, I thought I would be run over by a vehicle (or animal) when I went to photograph it. The letters are narrow and have a low waist, which gives them a characteristic Art Deco appeal. What makes the sign truly special is the changing stroke contrast one sees due to its dimensionality. If you happen to be in the neighbourhood, I urge you to go see it in person!