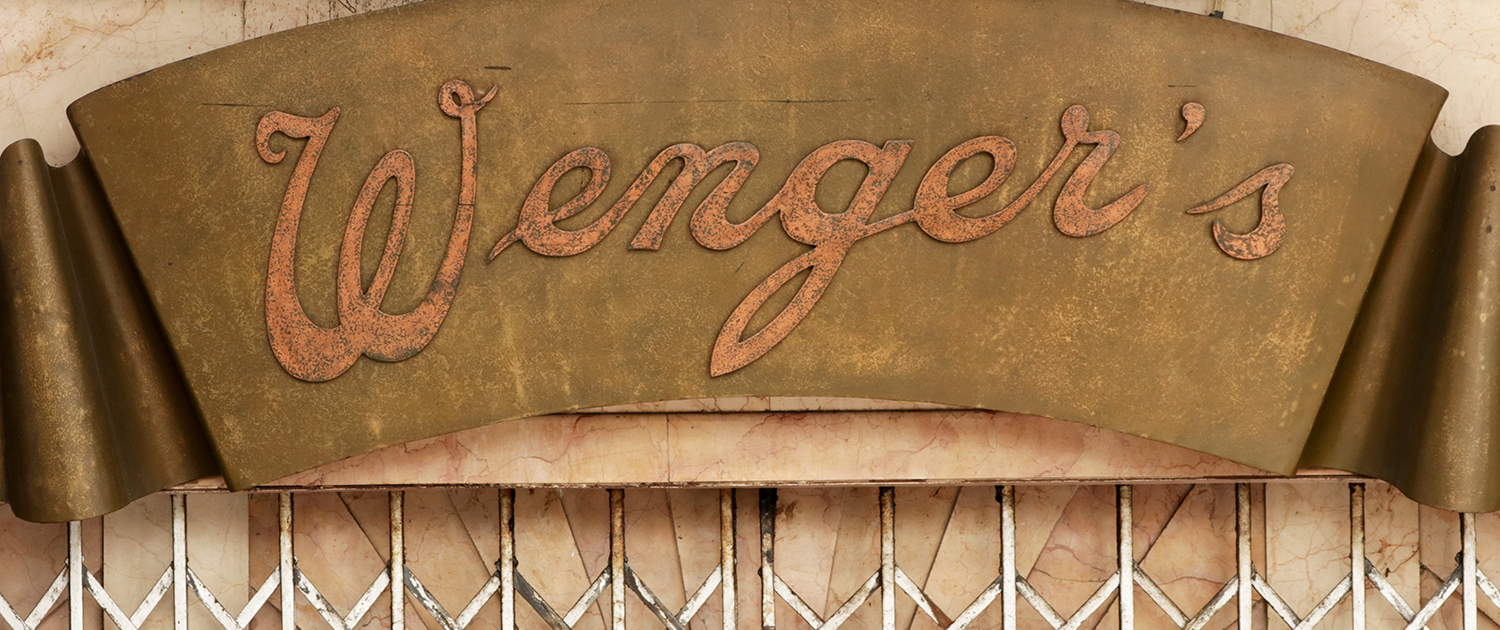 Letters of Connaught Place
This is an abridged form of an that essay first appeared as Issue 3 / Letters of Connaught Place of my newsletter I Spy with my Typographic Eye. Read the original, which includes a list of Instagram accounts that focus on capturing street lettering from Southeast Asia, and subscribe to the newsletter.
For some years now, I have tried and failed to devise a type walk in and around Connaught Place. It not a lack of interesting signs, but largely a challenge of space and time. The signs I would like to talk about are simply too scattered in the neighbourhood, and some, well, don't even exist anymore. And so, until I find a way to time travel (maybe some new experiments with augmented reality?), or identify more signs within a smaller area to make this a viable idea, I am at an impasse. Or I was. Because hey, why not a photo essay for this newsletter instead.
If you'd like to use this essay to map a type walk of your own, I share below the route I would take if I were you. You'll cover upwards of five kilometres, and early mornings are a great time to catch the market without its characteristic crowds, and in tolerable weather.
To Connaught Place!
For the uninitiated, Connaught Place is a commercial and shopping centre in Delhi, that was built as part of the imperial capital of New Delhi by the British. Space for Connaught Place was earmarked in 1913, a couple of years after George V announced the transfer of the country's capital from Calcutta to Delhi, and its preliminary designs were drawn up by W.H. Nicholls, with additions by his successor, Robert Tor Russell. It continues to be a bustling marketplace today. I find the juxtaposition of the new and old, and how the place was used first by the British and then the Indian state, very fascinating, and reflected in the letters one sees there. I won't go into the story of how Connaught Place came to be, and go straight into painting a typographic picture of the neighbourhood, but if you're interested, Swapna Liddle's Connaught Place and the Making of New Delhi is a great introduction to the subject.
The Eastern and Western Courts
For as long as I remember, I've been intrigued by the twin façades of The Eastern and Western Courts (location), which flank Janpath a little before the art deco hotel, The Imperial, as one approaches Connaught Place. Designed by Russell and built in the 1920s, both were intended to serve as hostels for visiting legislators when assemblies were in session, though The Eastern Court was sold to the Post and Telegraph Department soon after. Today it houses the offices of Mahanagar Telephone Nigam Limited (MTNL). The buildings' signs, which I want to show you, aren't always the easiest to see because they play hide-and-seek with the person on the street due to the dense tree cover in front of them.
I visited this summer, and on the encouragement of a couple of MTNL staff I met outside, I ventured inside the gates of The Eastern Court, and took these pictures. No such luck at The Western Court, and so here is an image of the building and sign from 2008, by photographer Stuart Forster.
More so than any other sign in the very immediate neighbourhood, these letters are an imprint of British colonial rule in India, and the image that the British must have hoped to exude in their newly-built imperial capital. The letters are classical in style, like the buildings' architecture, and no doubt intended to convey majesty and stateliness. To me, they look dwarfed due to their scale and placement, especially in photographs, and any affect they may have is diminished as a result. Call it my keen eye, or my ambivalence towards imposing colonial structures, but features like the the emaciated leg of the R, or the unseemly letter spacing around the T, make the overall appearance somewhat naïve.
On this trip, I was happy to get a good look at the Central Telegraph Office sign too. This is likely not the original sign, since this photograph of the building from 1947 shows an altogether different one, and at a different location. I had never paid that much attention to it because until now, I hadn't ever managed to see it properly. Its stubby, bracketed serifs, chopped-off spur of the G and extra wide word spaces (like the building signs) are worthy of their own close-up.
Modern High School
Still in the periphery of Connaught Place proper, now move two radials east to Barakhamba Road to yet another pre-Independence building, that of the Modern High School (location). It stands on land that was originally set aside for relocating Delhi University to (a plan shelved due to expense), and which was allotted to the school in 1930, a decade after it was founded in nearby Daryaganj. The building, which was completed in January 1933, was designed by C.G. and F.B. Blomfield, and its construction supervised by Sobha Singh.
The sign is installed at ground level. Its elegant uppercase letterforms have high contrast, sharp serifs, and despite wear and tear and the damage to the D, still look commanding. In the school emblem, the name is set in something that looks very much like Gill Sans (released by Monotype in 1928); and the motto, in Devanagari, has a broken headline, a style that I'm quite partial towards. Don't miss the ल — which is in the regional form that is usually associated with the "Bombay style", and today, with a Marathi preference.
Office and shop fronts
Once at Connaught Circus, it is as simple as walking in a circle snaking in and out of the outer, middle and inner circles. My advice would be to take a left first to see the sign for The Tribune (location) in N block, and then retrace steps to go counter-clockwise, ending up in A Block.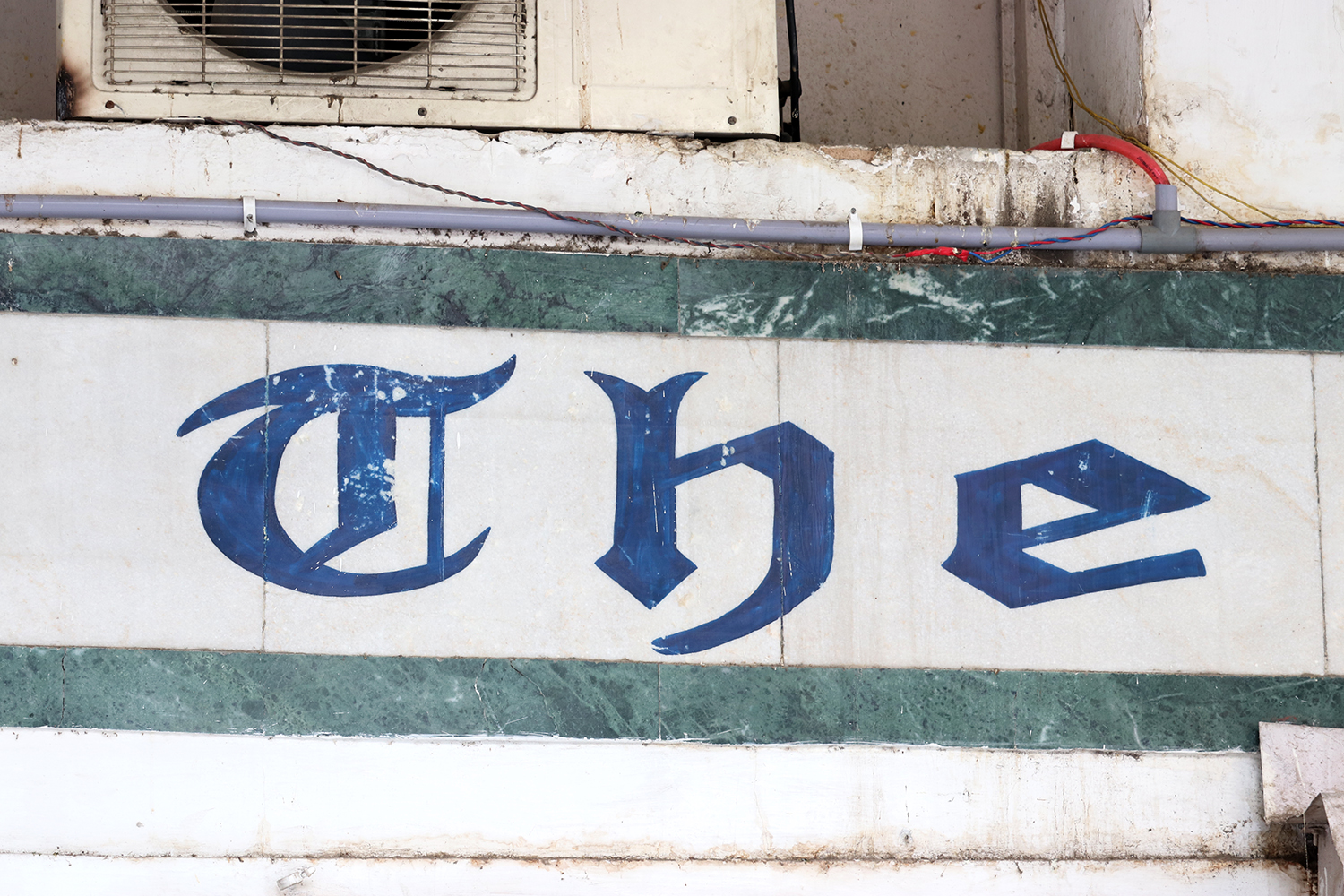 The Tribune sign interprets the blackletter nameplate of the eponymous English-language newspaper, and it is painted on stone. The newspaper was founded by Sardar Dyal Singh Majithia in Lahore in 1881. The sign is not the same as the currently used nameplate, and appears to bear more resemblance to older designs, like the one on this edition from 1931. The Tribune also has two sister publications. One of them is Punjabi Tribune, which you might remember from last month's edition.
In H Block, keep your eyes at ground level to see the multi-script signs of Indra Palace. They make no attempt at visually matching Latin and Devanagari scripts, and I think we're all the better for it. The sinuous script letters of the Latin sit in wonderful contrast to the hard, square ones of the Devanagari. I am particularly fond of how the tail of इ and the rakāra of the द्र are accommodated within the the letter height so they don't descend below the baseline.
Now for two script signs, one for each store that predates independent India. First, Uberoi Opticians (location) with its misaligned diagonal baselines.
And then in Block A, the famous confectioner, Wenger's (location). Wenger's moved to Connaught Place from Kashmere Gate in the 1930s, where it had operated under the name Spencer's, and today, is about half a decade away from celebrating its centenary. Even though they are the kind of details that would get ironed out in a redesign today, I adore the decidedly small flourished in-stroke and the loopy out-stroke on the "W"; and gosh, that pointed loop on the "g" 😍
We end at Hamilton House (location) and its sign with minuscule, blink-and-you'll-miss-them serifs. Once a jewellery store, then the office of political magazine, The Outlook, the building now houses a gymnasium. This is also a great vantage point to see the yellow and white neon sign for Palika Parking.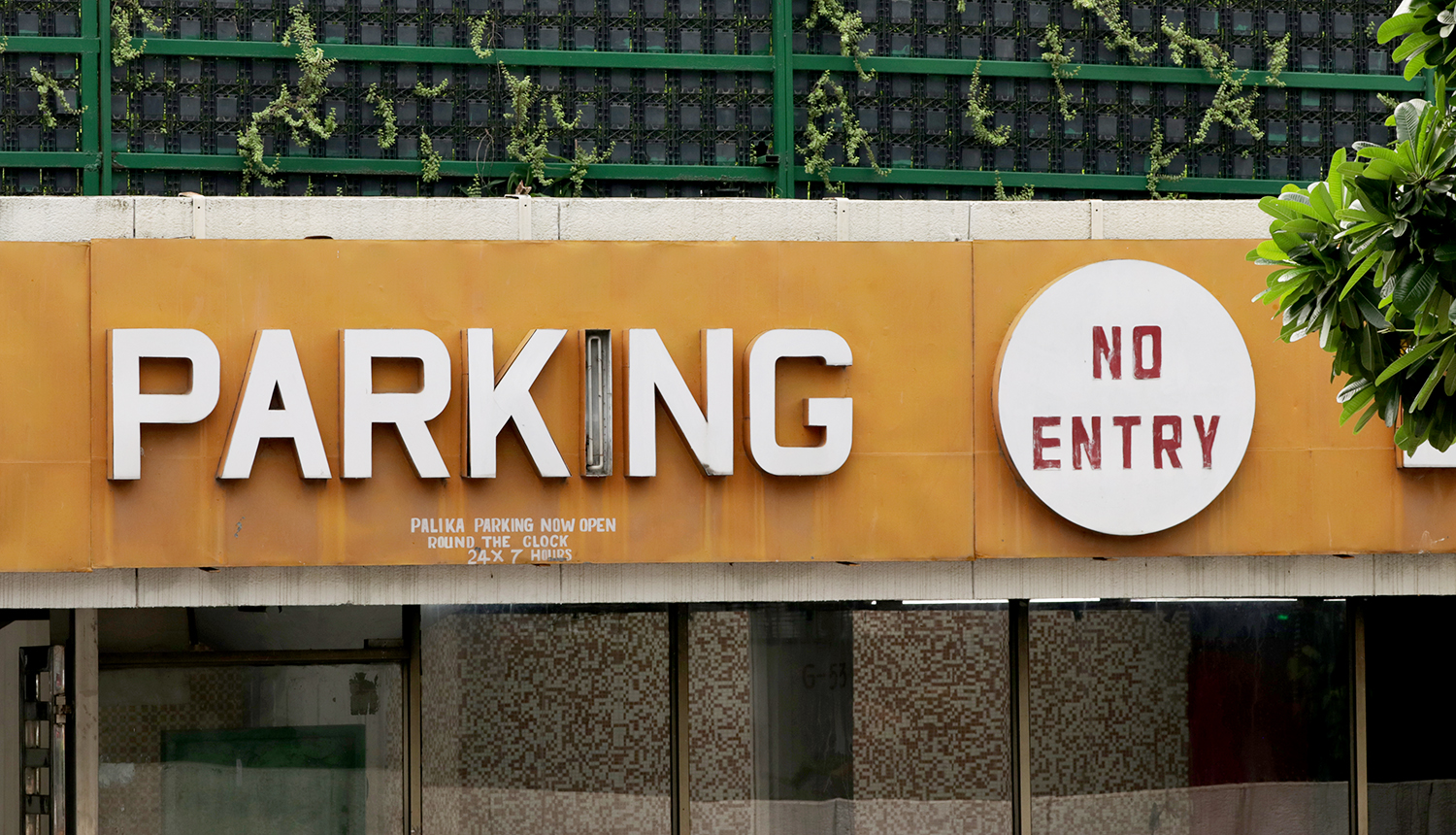 Bygone Cinemas
I have a bittersweet relationship with cinema halls and their signs (something I wrote about it in Paper Planes for their wonderful series, Local Attractions), and the ones I fancied in Connaught Place are all gone. The foursome — Odeon, Plaza, Rivoli and Regal — no longer exist as they were meant to be, i.e. independent single screen theatres. The first three are now franchise multiplexes, and the last one is under refurbishment, last I knew. The only thing that survives is the sign on the Regal Building (location).
This article from the Wall Street Journal has some pictures of these cinema signs in their past glory, this photograph of Plaza is a real gem, and take a look at what Rivoli looked like in this essay in The Hindu.
State emporia and scripts from around India
Our last stop is Baba Kharak Singh Marg, named after the playwright and Sikh political leader, and home to various state crafts and handloom emporia. The signs of these emporia naturally lend themselves to multi-script lettering, and among them, my number one is the Tamil and Latin rendition for Co-Optex (location), or the Tamil Nadu Handloom Weavers' Cooperative Society.

The rest, I'm afraid, are of variable quality. Phulkari (location), the Punjab government emporium, has a brushy Gurmukhi sign with flourishes, and uneven letter spacing. The Madhya Pradesh emporium, Mrignayani (location), features a Devanagari sign with a distinctive personality and triangular knots, but sadly, the execution leaves a lot to be desired. Then there is the trilingual sign for Karnataka's Cauvery (location). I've always loved their Latin-script branding, and so, the Devanagari and Kannada versions, which lack the same oomph, pale for me in comparison. There are others, featuring scripts from Meetei Mayek to Odia, and Bengali-Assamese to Gujarati, but I'll leave you to discover them yourself if and when you're in the vicinity of Connaught Place next.